Summer is officially over and school is back in full swing. How's that working out at your house? We're adjusting over here but I'll admit these first weeks haven't been without their hiccups. The problem is there's just never any real grace period to help everyone ease into the school year — one day, you're sleeping in, going to the pool, and staying up late watching the Olympics because you are a responsible citizen, and the next day, WHAM! It's all getting up at the crack of dawn and making sandwiches at 7 a.m.
The key to successful mornings at our house is having a breakfast plan. Since I cook breakfast nearly every day, I need to know what's on the menu before I go to bed. Now listen — I'm not bragging about this, it just seems that I took a wrong turn somewhere along the way and now my kids don't consider cereal to be a viable option. I've worked out a few tricks to make the best use of those precious morning minutes (like putting bacon in a cold oven, turning the heat to 400F and setting the timer for 20 minutes, for instance), but my secret weapon is something I can make the night before and serve not once, but twice, for breakfast: Chocolate Chip Banana Bread. My friend Elizabeth shared her recipe with me years ago, and after tweaking it with the addition of chocolate chips, it's become a staple at our house.
I don't always feel like making breakfast after I just made dinner, but you know what I love? The glorious feeling of having breakfast done for the next two days! When I focus on having that task completed, it makes it a lot easier to get out the mixer. Plus, I feel so responsible and productive when I slide that pan in the oven.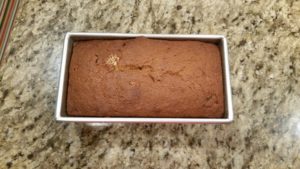 You might have your own favorite recipe for banana bread, but if not, here's mine (er, Elizabeth's):
Chocolate Chip Banana Bread
1 stick softened butter
1 cup sugar
2 eggs
1 tsp vanilla
3 almost rotten bananas
2 c flour
1/2 tsp salt
1 tsp soda
Healthy handful of chocolate chips.
Preheat oven to 350F and grease loaf pan. Cream butter and sugar. Beat in eggs and vanilla. Add bananas to bowl and mix together. In separate bowl, combine flour, soda, and salt. Add in thirds to liquid mixture, then fold in chocolate chips. Bake for 60-65 minutes, until golden brown.
You can serve this with a side of eggs for protein, too — maybe even hard boil those bad boys while the banana bread is in the oven! Done and done.
Another way to get ahead for breakfast or just have healthy snacks on hand that don't require much thought — frozen smoothie packs. It's the end of the season for a lot of our yummy summer fruits, and most of it is on sale. Snatch up those good deals when you see them, then, take just a few extra minutes to clean the fruit before you portion it out into whatever kind of smoothie pack you want to make.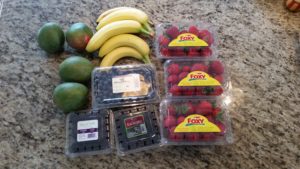 Recently, I stocked up on strawberries, blueberries, blackberries, mangoes, and bananas. Those mangoes were only 50 cents each! Bargain. I cleaned the berries by soaking them in a vinegar bath for a few minutes. I do this to apples, grapes, berries — anything with an edible skin. It's easy and NO the fruit does not taste like vinegar. Just fill up a clean basin or bowl with tap water, then add in *some* plain white vinegar. There is no exact measurement so don't freak out about that, Type A people. *Some* is fine.  Let the fruit soak and get rid of the nasty grocery store germs while you're doing something else, then rinse and let air dry for a few minutes.
Our smoothies typically consist of spinach, banana, strawberries, blueberries, any other kind of berry we have hanging around, yogurt, flaxseed, and a little water. Since the fruit is usually frozen, you don't need to add ice. You can either (1) portion out the exact smoothie you want to make including the above ingredients, or (2) leave each fruit in separate portions so you can mix and match. (Spinach is a great thing to freeze if your family is like us and can't eat it fast enough before it goes bad.) Make sure you have plenty of baggies on hand before you get started!
I put all the little bags of ingredients into a gallon-size for the freezer, and then I feel all productive again.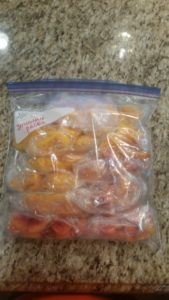 That's it! I hope you find these ideas helpful as you ease back into the school year. And I'd love to know — what are your best tips to makes mornings go smoothly? Let me know in the comments!